---
Keeping Clean Amidst COVID-19
The novel coronavirus has caused major changes in the way we do things. Systems of the workforce, transportation, health, education, and human interaction have been drastically altered to help prevent the spread of COVID 19, while giving people whatever is possible to have some semblance of normalcy.
If there is one thing that will probably remain long after the pandemic, it will be the constant need to clean and disinfect. May it be from the simple carrying of alcohol wherever you go, to the wiping of surfaces before touching it, this disease has taught us a lesson and has given us an experience we want no repeat of.
On that note, below are some tips on how to disinfect your home to keep you and your family safe, and not contribute to the spread of the virus.
Cleaning and Disinfecting
Daily Routine
Regular cleaning has always been important but now so more than ever. How do you make sure to disinfect regularly? Here are some tips you can follow when cleaning. Think of it as an upgrade to your daily cleaning regimen
Always wash your hands with soap when coming in contact with high touch surfaces. If there's no hand washing area in sight, make sure to carry round hand sanitizer or alcohol ( percentage of at least 70 alcohol diluted in purified water works best)
Use disposable gloves when cleaning areas such as the bathroom and kitchen
Should you have an infected member, items of the sick should stay separate from the rest of the family members'.
Stock up on household disinfectant solutions. Check the solution and if it is effective in killing virus and bacteria. Always keep it in a secure place especially when you have kids around.
Key Areas to Disinfect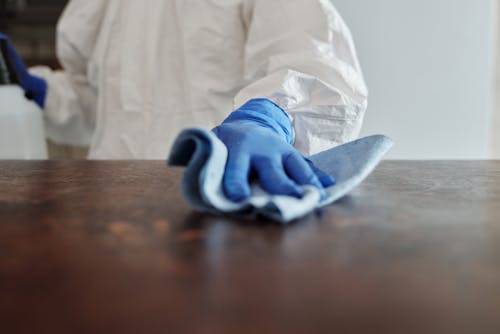 The COVID 19 virus can be spread through respiratory droplets, or by touching contaminated surfaces then touching your eyes, nose, or mouth. That said, it's important to be aware of the high touch surfaces, and make an effort to avoid touching them, and regularly disinfect them. Here is a list of the different hard surfaces at home that needs regular disinfection:
Door knobs
Faucets
Cabinet handles
Kitchen and dining surfaces
Balcony and staircase railings
Remote controls
Light switches
Appliance handles and buttons
Here are some soft surfaces you regularly get in contact with:
Armchairs
Pillows and cushions
Living room and shower curtains
Leather bags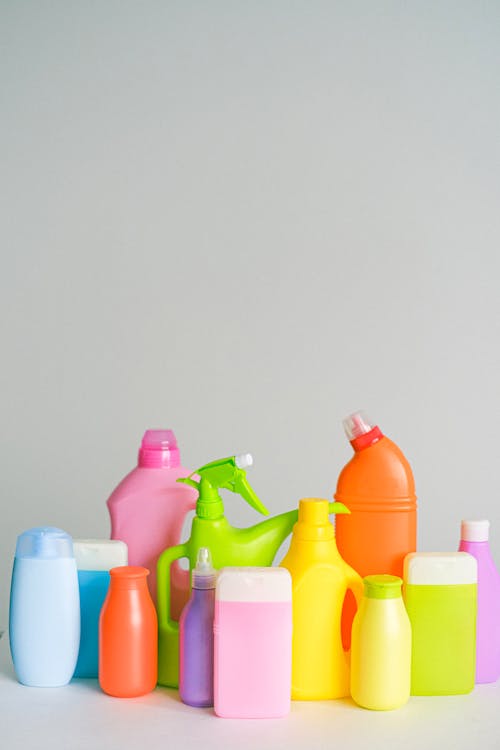 There are many available disinfectants in the market specifically designed for certain surfaces, so you shouldn't worry about damaging your precious furniture or appliance. But if you would like to use bleach, it is important to follow guides to ensure proper disinfection. Here are some notes from the Centers for Disease Control and Prevention:
Most household bleach contains 5%–9% sodium hypochlorite. Do not use a bleach product if the percentage is not in this range or is not specified. This includes some types of laundry bleach or splashless bleach, which are not appropriate for disinfection.
Follow the directions on the bleach bottle for preparing a diluted bleach solution. If your bottle does not have directions, you can make a bleach solution by mixing:
5 tablespoons (1/3 cup) of bleach per gallon of room temperature water, or
4 teaspoons of bleach per quart of room temperature water
For soft items that require gentle handling, here's what you can do according to CDCP:
Clean the surface using soap and water or with cleaners appropriate for use on these surfaces.
Launder items (if possible) according to the manufacturer's instructions. Use the warmest appropriate water setting and dry items completely.
Always remember to wear gloves when handling bleach and other chemicals to avoid burns or skin irritations.
When There Is A Guest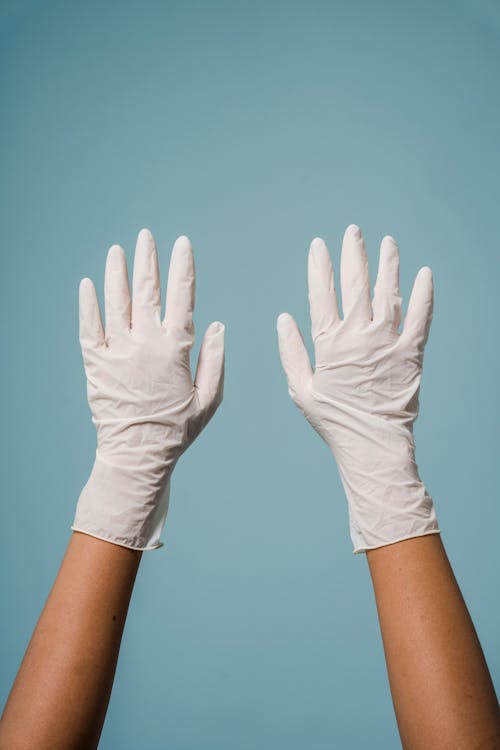 As much as we love having family and friends over, it's difficult to know if they are free from the virus and it's almost instinct to think of the worse at this point. But say you are actually having guests at home. What precautions should you take? And how do you clean after this?
Disinfect upon arrival. Have the guest wash his/her hands immediately.
Keep coats and shoes by the entrance, don't bring it further inside.
Try to keep the visit in just one area of the house.
Have separate utensils for that person, and remember to segregate it for disinfection later.
Check in with the person at least two weeks after contact to ensure that he or she has not contracted COVID 19.
Waste Disposal
Stick to your regular routine of waste segregation and disposal. If you do not have a regular schedule, it's would be wise to start now to ensure that your home is in top shape and will not harbor bacteria that will compromise your and your family's health.
To be mindful of those who will handle your trash upon collection, best to place used masks, tissue, paper towels, napkins, cotton buds and pads, and any items that might have come into contact with your nose, mouth, and eyes in a tightly sealed plastic bag.
Does simple soap and water work?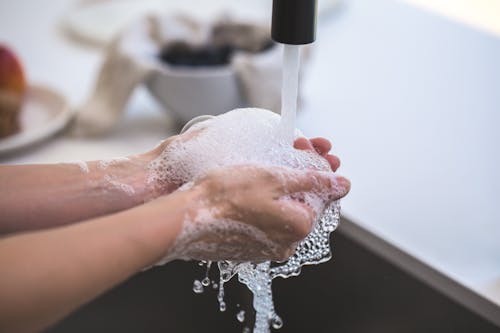 Cleaning the home starts with proper hygiene. The easiest and most frequent thing you can do is to wash your hands. Simple soap and water will do. Just scrub it for at least 20 seconds then rinse. Some surfaces can also be quickly disinfected using soap and water, then you can perform another deep disinfection for when you have more time using other chemicals and solutions.
Hire A Professional to Clean and Disinfect Your Home
If you find the extra steps of disinfecting a bit too much, or you don't have enough knowledge to perform it on your own, then it would be best to hire professionals to do the job. Give your local Austin house cleaning service a call to discuss your needs and set a home cleaning and disinfection appointment.
---
---