---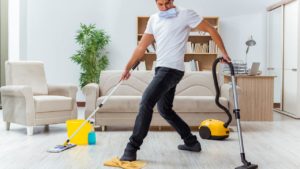 Speed Cleaning Tips: How To Clean Your House Quickly
You love a clean clutter-free space, but the task of cleaning your property might seem like an overwhelming job. Well, there are some speed cleaning tips that can come in handy when you wish to clean up the clutter and organize space quickly.
Quick House Cleaning Tips
Start with the bath
Spray a mix of baking soda and vinegar around the toilet, sink, counters, and floor. Wait for a few minutes and then wipe clean the countertops. Last, spray with water.
Start cleaning from the cleanest surface to the dirtiest or you may choose to clean from top to bottom. This ensures that you will need to work only once instead of putting double efforts on cleaning an area. You may use a paper towel or microfiber for the cleaning job. Are there any hard water deposits, stains, or grimes that you deserve special attention? Look for such stains around the faucet, drain, and sink handles.
Wipe clean the lights. Remember, the switch plate is one of the frequently handled areas and they tend to accumulate a lot of stains. Regular cleaning will help keep everything clean and sparkling.
Clean the living Room
A living room tends to gather a lot of dust here and there. Dust hides on and under the furniture. Nook and crannies do trap dust too. All you need is a few minutes and a microfiber mitt to wipe clean everything. Run your hand over the table, open shelves, light pictures, and lamps.
Pick up loose strands, pet hair, and dirt. Run a vacuum cleaner to wipe clean a floor that needs it instead of sweeping with a broom. With floor cleaning done in minutes, you do not need to make an extra trip to the trash can to throw away the trash.
Switch to the kitchen cleaning task
The kitchen gathers a lot of dust, thanks to everyday cooking. You can find grease on kitchen cabinets. But when it comes to speed cleaning, you can still do it with a grease-cutting dishwashing detergent to cut through the grease.
You can make a DIY cleaning solution with liquid detergent and warm water. Wipe clean the greasy spot with a sponge and rinse it off with warm water.
Make a solution with baking soda, vinegar, and water to work on tough stains and clean with a wet wipe later.
Keep stainless steel shining with mineral oil. Sounds too good to be true? Well, watermarks and fingerprints can ruin the sparkling look of stainless-steel sinks, utensils, and surfaces. But one of the quick cleaning tips is to use mineral oil to wipe it clean once a week. The idea behind using mineral oil is to repel water from depositing on the surface. Additionally, a clean sweep with mineral oil also ensures that no tough stains will stick to the sink.
Make it a point to clean everything from top to bottom. This will ensure that anything that falls from the top will be taken care of when you clean the bottom. Dunk sponge in hot water with a few drops of lemon and wipe down counters and cabinets. Follow it up by wiping clean with a sponge soaked in hot water.
Bedroom cleaning is easy
If you are better organized, you can keep your room clean. It is a good idea to organize things to speed up cleaning. Clear all the clutter. Arrange every item and categorize them as essentials and everyday use. Make two baskets and place each item in the basket that fits the category.
It will make life much easier.
Additionally, wipe down furniture with a microfiber cloth from top to bottom for quick cleaning.
Vacuum Clean the Carpets
Carpets and rugs adorn the beauty of a space, besides being highly functional. But the fiber tends to attract dust and pet hair. As a result, they easily look dirty. It's always a good idea to vacuum clean the carpets regularly to keep them clean longer. Regular vacuuming does reduce the need for heavy cleaning, saving you time.
For speed house cleaning work, start vacuuming backward out of the room.
Besides, you may invest in hardwood floor cleaners or steam mops for quicker cleaning. They work faster than traditional mops.
More Quick Cleaning Tips
Clear up messes, spills, and muddy prints as soon as they happen.
Set a time limit for each cleaning job.
Keep all house cleaning supplies handy.
Create a house cleaning checklist and start working on it right away.
Clear the clutter and stay organized.
Start with cleaning high traffic rooms.
Start cleaning from top to bottom.
Involve family to speed cleaning tasks.
Freshen up garbage tins with lemon peel.
A clean personal space is inviting and equally refreshing. These speed cleaning tips can come in handy to create a beautiful zone.
---
---