---
Never let it be said that Dallas is boring. The city that lays claim to being the namesake of the famous drama, the backdrop of a presidential tragedy, ground zero for Bonnie & Clyde: the sprawling, thriving metropolis is anything but. If you're in The Big D for a day and you want to fit everything the city can offer into a few hours of sightseeing, we've got a list of things to do in Dallas for you.
Daytime sites
If you're traveling with kids, or only have a few hours of daytime to spare for your Dallas tour, these are the places to see while the sun's high in the sky.
1. Dallas Museum of Art (DMA)
If you're looking to start your trip with a little bit of art appreciation, the Dallas Museum of Art in downtown Dallas is your first stop. It's one of the top art museums in the United States, boasting 370,000 square feet of one of the country's most impressive collections of art. Offering over 23,000 collective artistic works, ranging from paintings, artifacts, and sculptures, you can join one of the daily activities on offer for all ages to enjoy them all.
The DMA's collections range from important historic pieces like ancient American art and millennia-old Buddhas to masterpieces from Monet, van Gogh, Pollock, and Mondrian. The massive expanse of the museum also includes a children's creative zone, a café, and a sculpture garden, so you'll always have more to explore.
With the exception of specific exhibitions and events, admission to the museum is always free.
2. Dealey Plaza
Not many places can say they played host to one of the events that changed the course of America's history forever, but Dealey Plaza in downtown Dallas definitely can. Most notably the site at which President John F. Kennedy Jr., was assassinated in November 1963, it's a historical landmark that's remained largely unchanged, especially since its designation as a National Historic Landmark in 1993.
If you want to immerse yourself in the history of the life and assassination of JFK, head over to The Sixth Floor Museum, which is dedicated to the late American president and his death, still believed by many to be part of a larger conspiracy, from different perspectives. The Sixth Floor Museum even lets you stand in the window that Lee Harvey Oswald fired the fatal shot from. After that, you could head over to Memorial Plaza, just a few blocks away, and stand in the "X" in the street where JFK was shot to complete your commemorative tour.
3. Dallas Arts District
In keeping with the spirit of 'everything's bigger in Texas', Dallas is home to the largest urban arts district in the United States. There are plenty of attractions in this area alone, namely the Dallas Museum of Art, Klyde Warren Park, Nasher Sculpture Center, and the Winspear Opera House.
When visiting the Dallas Arts District, make sure to plan ahead, because the number of places to see will need you to be as prepared as possible. There are walking tours you can join that will take about 90 minutes to complete, which can make you feel like you're traveling not just through Uptown, but through different time periods with the varied architectural styles on display.
There are also lots of areas with architectural significance as well, with points of interest including the Cathedral Shrine of the Virgin of Guadalupe built-in 1902, which has a 68-meter spire and an impressive amount of beautiful stained glass windows.
4. Perot Museum of Nature and Science
The extraordinarily designed and striking Perot Museum of Nature and Science stands not only as a sprawling monument in the Dallas day-tripping scene, but also an impressive, multifaceted museum with cutting edge and unique attractions.
It boasts almost 200,000 feet of exhibition space and is home to 11 permanent exhibitions on five floors exploring everything from dinosaurs to robotics. Perot Museum of Nature and Science features numerous dinosaur skeletons and a paleontology lab to delight younger visitors, and unique interactive exhibitions that range from experiencing an earthquake to building your own robot. There's also the delightful chance to 'compete' against professional athletes in dizzyingly interactive exhibit spaces, and there isn't an excuse to leave even for a little while with the onsite café.
The museum might be one of the more recent additions to the popular landmarks of Dallas, but all the bells and whistles that go into making it one of the most impressive, state-of-the-art museums has certainly cemented its position in the ranks of noteworthy sightseeing spots of the city.
5. McKinney Avenue Trolley
Dallas' last surviving streetcar line, the McKinney Avenue Trolley runs from downtown through Uptown and is the best way to get to all of the best sightseeing spots, dining, museums, pubs, and the famous Arts District.
The city of Dallas used to operate 25 streetcars in total but ended the service in 1956, with the McKinney Avenue Trolley being the last survivor of a long-gone era of public transport. Nowadays, as the trolley system has been largely outmoded by buses and cars, it instead offers a memorable and unique way to do a bar and food crawl through some of the best dining spots and pubs in town, the trendy attractions in Oak Cliff, and through most of downtown with featured attractions like the Dallas Museum of Art.
Make sure to take advantage of the trolley, which operates 365 days a year, and free of charge.
6. Klyde Warren Park
Nestled in the popular and sprawling Arts District, Klyde Warren Park is a 5.2-acre narrow oasis of greenery and community sitting on top of the Woodall Rogers Freeway. One of the most popular spots in Dallas with tons of free activities and sports including (and not limited to) chess, badminton, table tennis, and yoga, it's not hard to see why the park is so beloved among Dallasites and out-of-towners alike.
Klyde Warren Park is also home to a varied line of food trucks for a quick and delicious bite to eat while you enjoy the park or hit the playground with the kids, and two restaurants, Savor and Relish. You're never too far from delicious food, and you might even be lucky enough to be around during any of the live concerts or film screenings that the park regularly hosts to.
The park also features a butterfly garden, special areas for dogs, games, and children's entertainment all year-round. If you still aren't convinced that the park is worth a stop on your trip, Klyde Warren Park also happens to be adjacent to the Perot Museum of Nature and Science, The Dallas Museum of Art, and other central attractions.
7. Dallas Arboretum & Botanical Garden
Dallas might be more well-known for the nightlife or its quirky attractions, but it doesn't mean it's going to slack in the side of the natural attraction of things.
The Dallas Arboretum & Botanical Garden is 66 acres on the southeast shore of White Rock Lake, not more than 15 minutes from the bustle of Downtown Dallas, and is home to 19 different gardens with varied flora displays, each more vibrant and thrilling than the last.
Some of the featured gardens are Palmer Fern Dell, an oasis in the summer months, where mist sprayers tend to ferns, flowers, and trees, and is one of the most pleasant park areas to visit when the temperature is high. Another is the Margaret Elisabeth Jonsson Color Garden, with brilliant beds of more than 2,000 seasonal azalea varieties, and also features tulips and daffodils. It's one of the largest flower gardens in the United States, and is guaranteed to make a pretty picture, should you time your visit right.
The highlight of the botanical garden, however, is the Dallas Blooms, which you can view from the beginning of February all the way to mid-April, which features 500,000- half a million- individual spring-blooming tulips.
8. Dallas Zoo
No family outing would be complete without a trip to the Dallas Zoo, conveniently located just across Dallas' Trinity River.
The zoo offers no shortage of animals to see to excite both young and old: Dallas Zoo is home to the amazing Giants of the Savanna habitat, a unique, $32.5 million habitat that allows a glimpse into as natural of a savanna habitat as you can see without leaving the West. Unveiled in 2011, the habitat houses African elephants, African lions, giraffes, zebras, ostriches, South African cheetahs, and African wild dogs.
You could also take the 20 minute, mile-long, and narrated monorail trip, The Wilds of Africa Adventure Safari, where you can take a leisurely and educational ride to see zebras, giant birds, gazelles, hippos and okapis.
The Dallas Zoo also features the impressive Gorilla Research Center, which is a facsimile of the Congo Rainforest nestled in a Texas city, and home to two different troops of gorillas.
Dallas Zoo members enter free, as well as children ages 2 and under. For adults (ages 12-64), general admission is priced at $17, and both children aged 3-11 and seniors can enter for $12. Not a bad deal to see one of the most unique zoos displays in Texas.
9. Dallas World Aquarium
If you're looking for a brush with nature of a different variety, there's also the Dallas World Aquarium, housed in a reworked warehouse from 1924 and with more to offer than just pretty fish.
Located in the West End District, the multiple floor aquarium keeps ten main tanks that house beautiful specimens of varied aquatic life from all over the world's waters, from Percula clownfish, moon jellyfish, angelfish to giant Japanese spider crabs and electric eels.
Alongside the standard fare of fish, the aquarium also keeps a variety of birds and owls, as well as a reproduction of the Orinoco Rainforest, featuring river otters, monkeys, poison dart frogs, colorful varieties of birds and sloths. However, there is also the delightful addition of the South Africa exhibit, which keeps a colony of black-footed penguins, which can only be found in Dallas Texas.
10. Fair Park
An outdoor fairground on the right shoulder of Downtown Dallas with a long history dating back to 1886, the Fair Park features plenty of attractions and holds more than 1,200 events per year, ranging from sports events to live concerts.
Fair Park is also the host of the Texas State Fair, which goes on for 24 days from the last Friday of September and is attended by over two million people each year.
Nightlife hot spots
Some of the best nightlife scenes are right at home in Dallas. We gathered the best of the best of all that The Big D has to offer, ready for your night on the town or your night out with friends.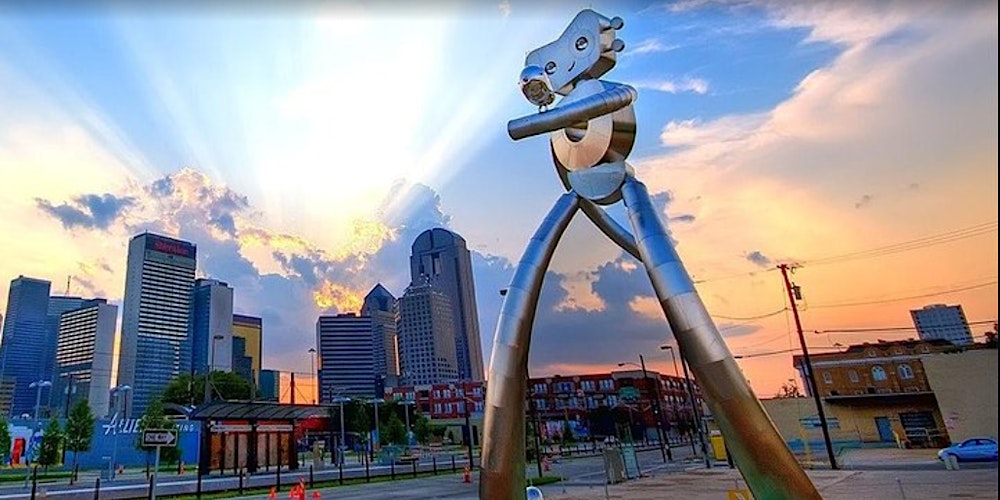 11. Deep Ellum
An iconic entertainment hub and a historic part of Dallas, Deep Ellum is a nightlife hotspot brimming with live music venues, great restaurants, art galleries, comedy clubs, and unique shops.
Described as a 'mecca for blues and jazz' with roots going as far back as 1884, Deep Ellum is home to a slew of popular nightlife haunts: the quintessential bars and pubs like Anvil Pub and the iconic watering hole slash live music venue, Double Wide; restaurants like Get Fried, Oni Ramen, and Local; live music joints like The Bomb Factory, The Door, Club Dada, The Prophet Bar, and Trees. If you're looking for a different kind of night out, there are places like the Dallas Comedy House too, as well as shows at Ad Libs and full-on stage productions at the Undermain Theatre. Magikal Event Space and Quixotic World Theatre are there too for more unusual events and even burlesque nights.
If a night out isn't quite your scene, Deep Ellum also features a robust shopping district just as unique as the neighborhood it sits in: satisfy your nostalgic needs at the stalls at Lula B's antique mall and collectibles at B4, get dressed to the nines at Epocha and Dallas Pinup, visit the Dallas Farmers' Market for everything from artisanal foods to retro memorabilia, and check out some award-winning cheeses at the Mozarella Company.
There's no shortage of things to see, music to chill out or to jam to, or food to try. Whether you're looking for a fun night out with music and good food, or to get lost in a mosh pit or a dance floor, there will be a perfect place for you at Deep Ellum.
12. Round-Up Saloon
Opened in July 1980, the Round-Up has been dubbed the 'Home of Good Times and Good People' for years and is one of the most popular nightclubs in the city. While it is mostly touted as a 'gay country western dance hall', and a well-known club for LGTBQ+ patrons, it has a reputation of being open to any and all guests that want to experience its massive dance floor, the drag shows, or simply want to party where popstars like Robyn, and more recently, Lady Gaga, performed.
In the 30 years since it opened, it's become a mainstay in both the Dallas club scene and Dallas queer culture and cemented the Round-Up Saloon as a popular spot for any LGBTQ+ Dallasites or tourists looking to have a good time. With a dizzying gallery of rotating events, from drag shows, musical fundraisers, live performances from big names in both pop and country music, you're guaranteed to find something you'll enjoy at the historic Round-Up Saloon.
13. Reunion Tower
While you could visit Reunion Tower in the daytime too, the night time view of the Dallas skyline warrants it a spot on the nighttime attractions of this list. Nestled in an orb sitting on a 561-foot tall tower at the edge of downtown Dallas, Reunion Tower has an indoor and outdoor observation deck where you can marvel at the gorgeous, lit-up Dallas skyline. The tower is part of the towers that make the Dallas skyline unique, it's also known as the ball, and on its own is illuminated by 259 LED lights.
The ride to the top of the tower is an amazing 68-second descent, where you can take in the breathtaking 360-degree dramatic view of Dallas, day or night. There are interactive screens where you can find out more about the city and the buildings that dot the skyline, and telescopes if you want a closer look at anything that catches your eye (within the telescope's reach, of course).
If you're willing to treat yourself, there are also two revolving restaurants inside The Orb: Cloud Nine Cafe and the posh Five Sixty, where you can enjoy a cup of Japanese sake and the Asian-infused cuisine while you enjoy the skyline.
14. The Guacamologist Experience at the Ritz-Carlton
While 'free' might not be the first thing that comes to mind when you think of the Ritz, the Guacamologist Experience is a delightful- and free of charge- surprise. If you show up to the Ritz hotel lobby at any evening at 6 PM, you can enjoy professionally prepared guacamole and chips, made by a certified "guacamologist".
If that isn't enough to tempt you into trying it, there's also alcohol on offer, with selections from the hotel's own tequila vault and mini margaritas.
If you're still looking for more after guac and chips, you can head over to the Rattlesnake bar, or the Fearing's restaurant where you can enjoy expertly crafted food and drink. The Ritz-Carlton's close proximity to the McKinney Avenue Trolley line also means that if you're still looking for more to do with your night, you can hop on and head over to any of the city's other nighttime attractions.
15. Lower Greenville
Second only to the Deep Ellum, Lower Greenville is a neighborhood that reinvented itself from place to avoid one of the trendiest bar and restaurant districts in Dallas City.
The strip of restaurants and bars has lots of different fares to offer during both the day and night, although it shines in the nightlife scene. If you're looking for a lively, fun night, you'll love the Truck Yard, touted as a 'playground for adults' with food trucks abound, a beer garden, and a treehouse bar; or Dodie's Reef, which is the place to go for game day spirit and features a rooftop patio for open-air partying and beer towers to spare.
If you want a more subdued, cozy night out, there are places for that too. Check out The Old Crow, which is perfect for a more traditional bar experience, with a darts, a jukebox, pool tables, and karaoke, this bar is more low-key but still great fun; or the Libertine, a gastropub with great, moody lighting, delicious food and craft beers on tap, perfect for any kind of hang-out or date.
Summary
No matter what time of day or time of year you find yourself in Dallas, Texas, you're always going to have somewhere to go, something to see, and something to do. With a myriad of attractions unique to The Big D, you're sure to have something new to see when you do find yourself in the city.
Oh by the way, if you're in need of a quality maid service in Dallas, check us out!
---
---